Match Reports
Year 5/6 Girls Football : County Finals : January 2022
In the Autumn term, our Year 5/6 girls football team won the district stage of the National Primary School football cup. On Monday the 24th January, 10 girls went to Dorking football stadium to play in the County tournament.
We played five games against people from all over Surrey. Overall we scored approximately 20 goals and only conceded three goals. At the end, we were placed 2nd. The winning team only beat us by one goal overall.
Mr Agombar was our coach for the day and pushed every girl to their limit. Everyone had a smile on their face and never gave up.
Match report by Lauren Gara
We would like to thank Mr Agombar for his dedicated coaching and for leading the team, and Mrs Robinson for managing the team and the fixtures.
Year 5/6 Boys Football Match vs Holy Trinity : January 2022
On Tuesday (25th of January), 18 boys from Boxgrove went to Holy Trinity and played against their football teams. The first match didn't go so well, but the team was still amazing! We scored a golden goal which went curling into the top corner. The keeper made a brilliant dive but it shot past his hands. Unluckily for us, they had a great player; he scored a screamer. He also assisted an overhead cross and their striker headed it bottom corner. They also scored another two goals: one was a simple tap in and the other from a free kick. The game ended 4-1 to Holy Trinity.
However, the second match was much better. We scored an amazing first goal which went top corner. Then Holy Trinity counter-attacked and scored a goal. The goals kept coming on both sides. Overall, it was 8-5 to Boxgrove.
The scores from both matches were added together and it ended up as a draw, with 9 goals each. Both teams played amazingly together.
Match report by Andy Li and Charlie Neale
We would like to thank Mr Agombar for managing the teams on the day, and for preparing them through his coaching at school.
Boxgrove "Sally Up Sally Down" Squat Challenge
Watch the Boxgrove staff take on the Squat Challenge, along with some of our Year 6s. Are you up to the challenge?
Scroll down to hear Coach A explain how to perform a squat correctly.
PE and Sport Ideas During School Lockdown
We know how much many of you love your PE lessons at school. Below we have some videos, featuring some of our fantastic Year 6 House Captains / Sports Reps, with ideas on warm ups and games and skills you can practise while you are at home. All of them are designed so that you can do them in a small space, even inside if you can't get outside. Some of them require a bit of equipment (like a tennis ball) but don't worry if you don't have the equipment as there are ideas on what you can use instead!
Week 6 PE and Sport Ideas
1. Throwing for Accuracy
Watch Isla practise three different types of throws. Notice how she lines herself up properly each time before she throws, aiming to be as accurate as possible.
2. Balance Challenge
This is harder than it first seems! You may well find that you can balance better on one foot than the other. This is a great exercise for strengthening your ankles for lots of different sports.
Watch out for the cheeky dog who tries to put off Blake's balance challenge in this video!
3. Jenny Meadows @home Athletics Challenges
British athlete Jenny Meadows is a World and European Champion at 800m.

During the last lockdown, she teamed up with England Athletics to come up with some fun and varied challenges to practise athletics techniques at home. These were the inspiration for some of the House Captain's videos over lockdown.
4. Active Surrey Virtual School Games - Dance Challenge
Rehearse and learn the Street Dance choreography by Star Steppers. There are two different videos for KS1 and KS2.

If you would like to record and share your own video of the dance steps, ask your parent to post it on social media, tagging @ActiveSchoolsAS #SurreySchoolGames. All videos must be entered by an adult.

The challenge runs from 1st to 12th March.
Week 5 PE and Sport Ideas
1. Basketball to the beat!
Oscar, one of our Sports Reps, had a go at creating his own basketball routine in time with a piece of music. Watch how he varies the tempo from slow to fast as the music speeds up. See how he even keeps the rhythm going around when his dog decides to join in at around 1m 30s!
Can you do the same as Oscar? You can use any ball that bounces, or if you don't have a bouncy ball then why not throw up and catch to the beat instead?
If you want more inspiration, you can watch a video of a class of students in Taiwan with their routine to a classical piece!
3. Active Schools Bingo : Fitness
This week's Bingo activities are designed to work your whole body. If you complete the Squat Challenge above, you've already ticked one off!
If you complete any of these Active Schools Bingo cards (including the ones from previous weeks), your parents can unlock a certificate for you by emailing your name, school name and school year to active.schools@surreycc.gov.uk.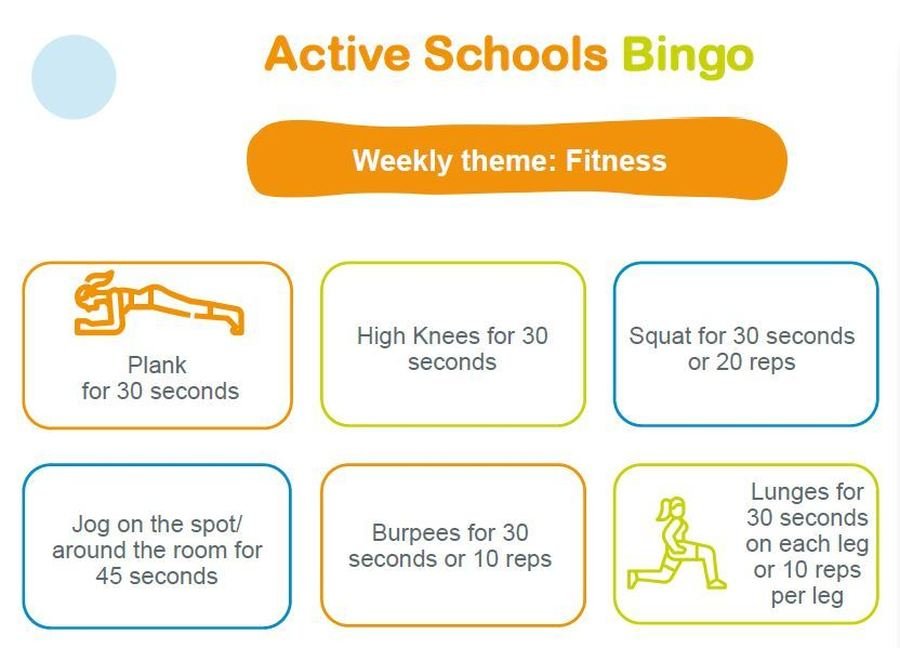 Week 4 PE and Sport Ideas
This week, our House Captains demonstrate some athletics challenges to practise some of the activities we usually do in indoor athletics.
1. Warm Up and Standing Long Jump
Watch Isla, our MacArthur House Captain, show how to warm up your legs before demonstrating the technique for the standing long jump.
2. Toilet Roll Tower Jump
Blake, our Redgrave House Captain, practises different jumps using toilet rolls as a hurdle!
3. 20 Second Bounce Challenge
Watch Blake explain (silently) how to create a grid, and then see how many times you can jump in a sequence in 20 seconds!
This is excellent practice for the Speed Bounce activity we do in Sportshall athletics.
4. Active Schools Bingo : Personal Best Challenges
Have a go at these challenges to see what your top score is. Maybe you could do it more than once this week to try to beat your own records?
If you complete any of these Active Schools Bingo cards (including the ones from Week 3), your parents can unlock a certificate for you by emailing your name, school name and school year to active.schools@surreycc.gov.uk.
5. "Scavenger" Game Break
This game could be fun for our younger children as a movement break between home school lessons!
Week 3 PE and Sport Ideas
1. Warm Up Drills
Watch Alice, our Grey Thompson House Captain, practise some warm up drills for running:
"Happy Clapping" to warm up your hamstrings. Keep the leg you are lifting nice and straight.
High knees.
High skips. Try to spring upwards as high as you can rather than forwards each time.
2. Active Schools Bingo : Creativity theme
Can you tick off all 6 activities on the list? Two of our House Captains had a go! Scroll down to see their videos:
Nathaniel, one of our Fry House Captains, built a fort in super-quick time!
Ellie, one of our Redgrave House Captains, made up her own dance / gymnastics routine.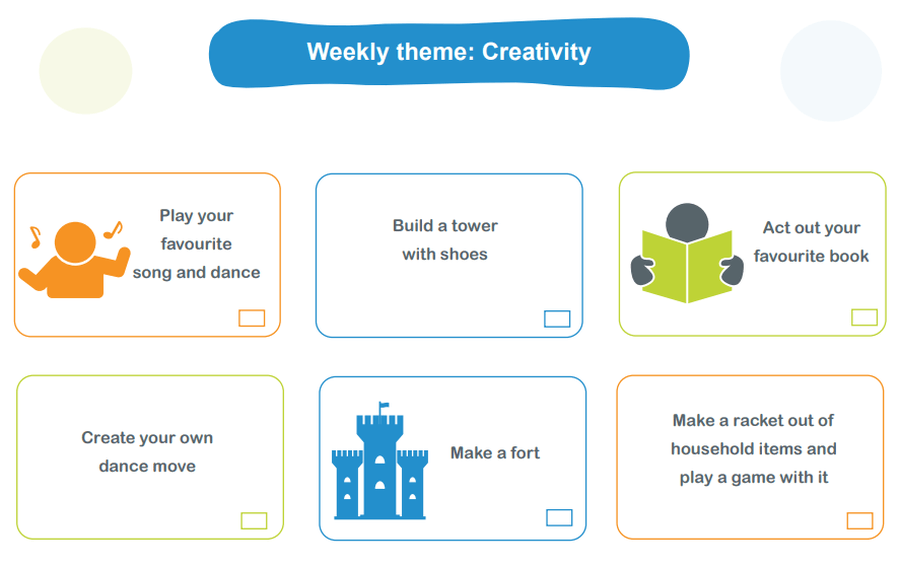 3. Active Schools Bingo : Nature theme
Can you complete all 6 activities on the Nature card?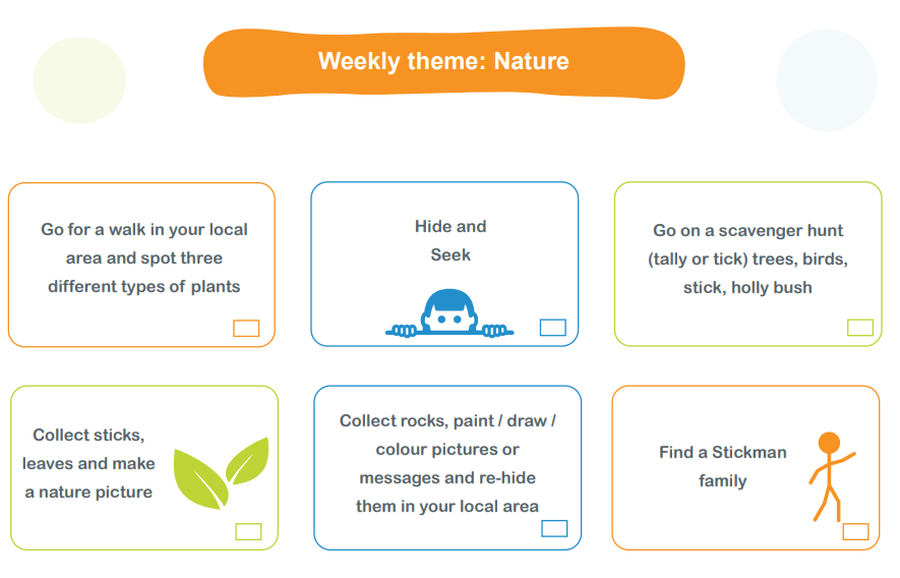 Week 2 PE and Sport Ideas
2. Warm Up : Hurdle Jumps
6. Wall catching level 2 - rope in a family member!
Week 1 PE and Sport Ideas
1. Warm up : Car Gear Stick
2. Warm up : Ladder steps
3. Animal Moves. This one is great for KS1 but our Year 6 children look like they are getting into the spirit too!
4. Football skills for small spaces!
7. Fitness first : Step ups!
Our 2020-21 Year 6 House Captains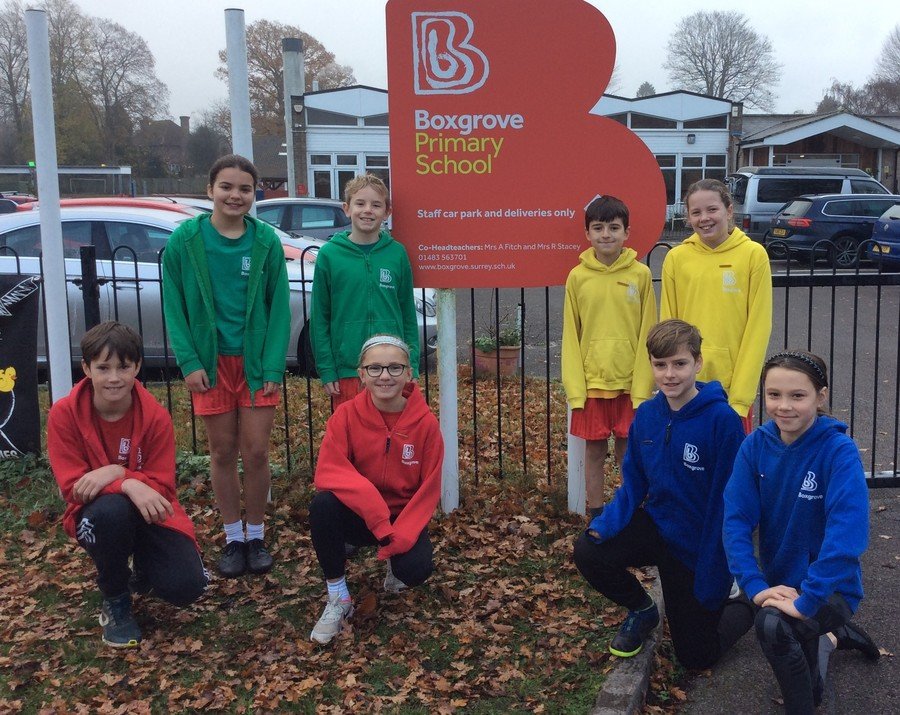 Photos from the 2019-20 Season