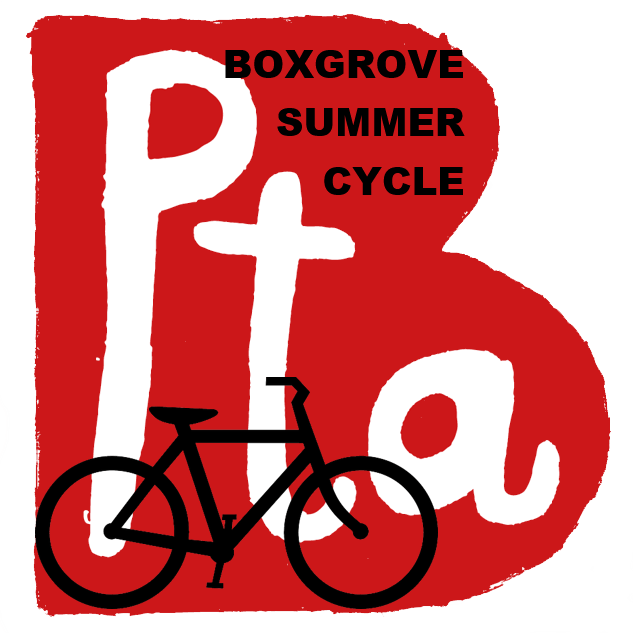 Boxgrove Summer Cycle
Between 21st May to 6th June 2021
To coincide with Sports Week at Boxgrove and Cycling UK's Bike Week we are launching the Boxgrove Summer Cycle! Children are encouraged to get on their bikes and cycle as far as they can between Friday 21st May and Sunday 6th June. There will be a form available on the school website for you to tell us how far the children have cycled, so that we can log our combined total.

Mileage by parents doesn't count!
Boxgrove dad Luke Bishop is very impressively cycling from Land's End to John O'Groats in September, so let's see if together we can cycle even further than that!
To add an element of competition, we will see which of our 4 houses can travel the furthest, and the staff will also log their distances to compete against the houses.
Update on Event:-
During this event you donated over 30 bikes, cycled a combined 1146.66km and raised a total of £739! The money raised helps, but the main focus of this event was to get the children out cycling! Once reception child cycled 54km over 5 days!
This Event Is Sponsored By:-

Decathlon in Guildford are very generously supporting this event by offering 10% discount on all of their servicing and repairs appointments between 17th May and 6th June - you just need to show them your Studybugs app to prove you attend Boxgrove. To book an appointment on their website by clicking here.
They are hoping to give the school some vouchers for new equipment after the event as well, depending how many bookings they get!
We have over 200 new lights, bells and reflectors from Decathlon as well, which will be available w/c 17th May 2021.
Boxgrove Bike Giveaway!
As part of the Summer Cycle we are asking for donations of bikes that your children have grown out of. Please bring them to the scooter park outside the heads' office between 17th and 19th May (scooter park will otherwise be unavailable those days). If you are interested in having a new bike, all the donations will be displayed for you to choose from on Friday 21st May between 8.30 and 9.15am.

Second-hand bikes and new lights will all be available free of charge. However, if you would like to make a donation to the BPTA, you can do so at www.pta-events/bpta.co.uk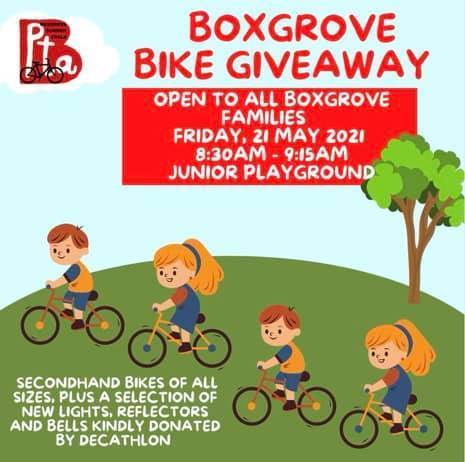 The 2021 Summer Cycle Event raised a fantastic £739.00p with over 30 bikes donated!!
What was the money spent on?
The PTA has funded the allotment, orienteering equipment, some sports equipment, IT and of course books of all kinds.
Other money raised by the PTA has funded:
Leavers' yearbooks for Y6 children.
A donation to each year group for equipment and resources.
A large contribution to the Hardship Fund.
Please Lend A Hand & Support The School

Lending a hand, no matter how large or small, will help make positive changes that enhance the children's experience and education at Boxgrove. Not only can you put your skills and hobbies to good use, it's a really good way to network within the school community too!

If you would like to get involved with the Boxgrove PTA in any way, then please pop along to our next Boxgrove PTA meeting to find out more or email boxgrovepta@gmail.com.

Boxgrove Parent Teacher Association is a Registered Charity with the Charity Commission for England and Wales. Charity number: 1095629