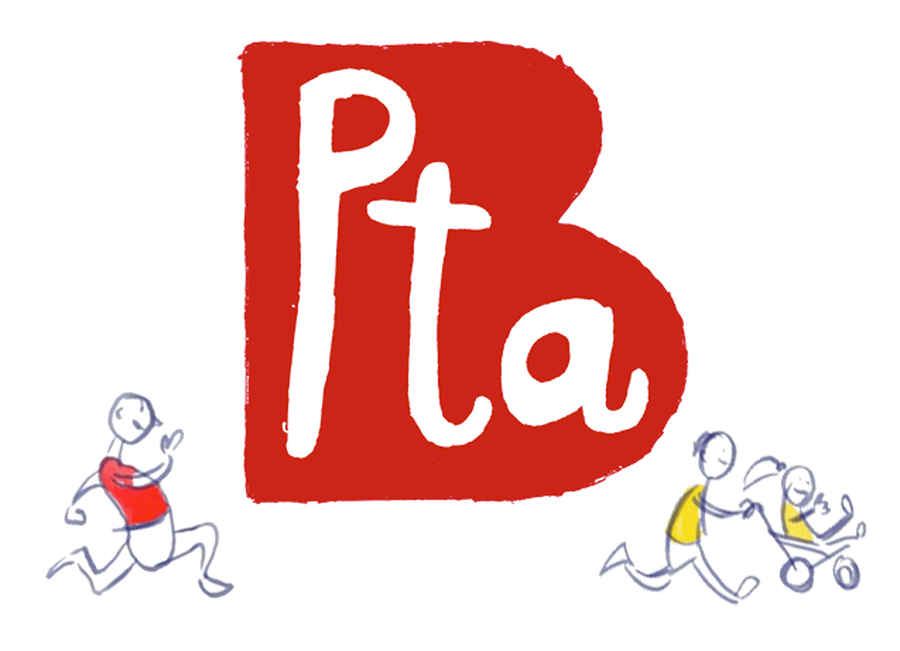 Family Fun Run - Sunday 29th September 2019.
It's back! The Family Fun Run 2019
Last year people ran, walked, and jogged... some even in came in fancy dress!
Family and friends came together to raise money for the school during this event.
All participants received a Finisher's Medal which was designed by the winner of our Medal Design Competition!
REDGRAVE

Are Currently The House Winner's of The Teacher Chase Race 2018!!

You Must Enter to Participate in the Fun Run.
To enter the 2km Fun Run and/or the Teacher Chase, complete and return an entry form with your entry fee (in cash or by cheque made payable to 'BPTA') to the PTA postbox at the School Office by Friday 20th September 2019. If you want to take part in both races you only need to pay one entry fee - but please tell us by marking the boxes which race(s) you want to enter. Entry forms can be downloaded by clicking here.
N.B. All participants take part in the Fun Run at their own risk. Neither Boxgrove Primary School nor the BPTA accepts any liability for any injuries sustained through participation in or attendance of the events. Parents/guardians remain responsible for their children at all times.
Medal Design Competition.
Enter this fun competition and design the winners medal for this years Fun Run!
The winning design will feature on the runners medal for the Fun Run. Return your entry to the PTA postbox at the School Office by Friday 13th September 2019. Click the image below and download the medal template and draw away!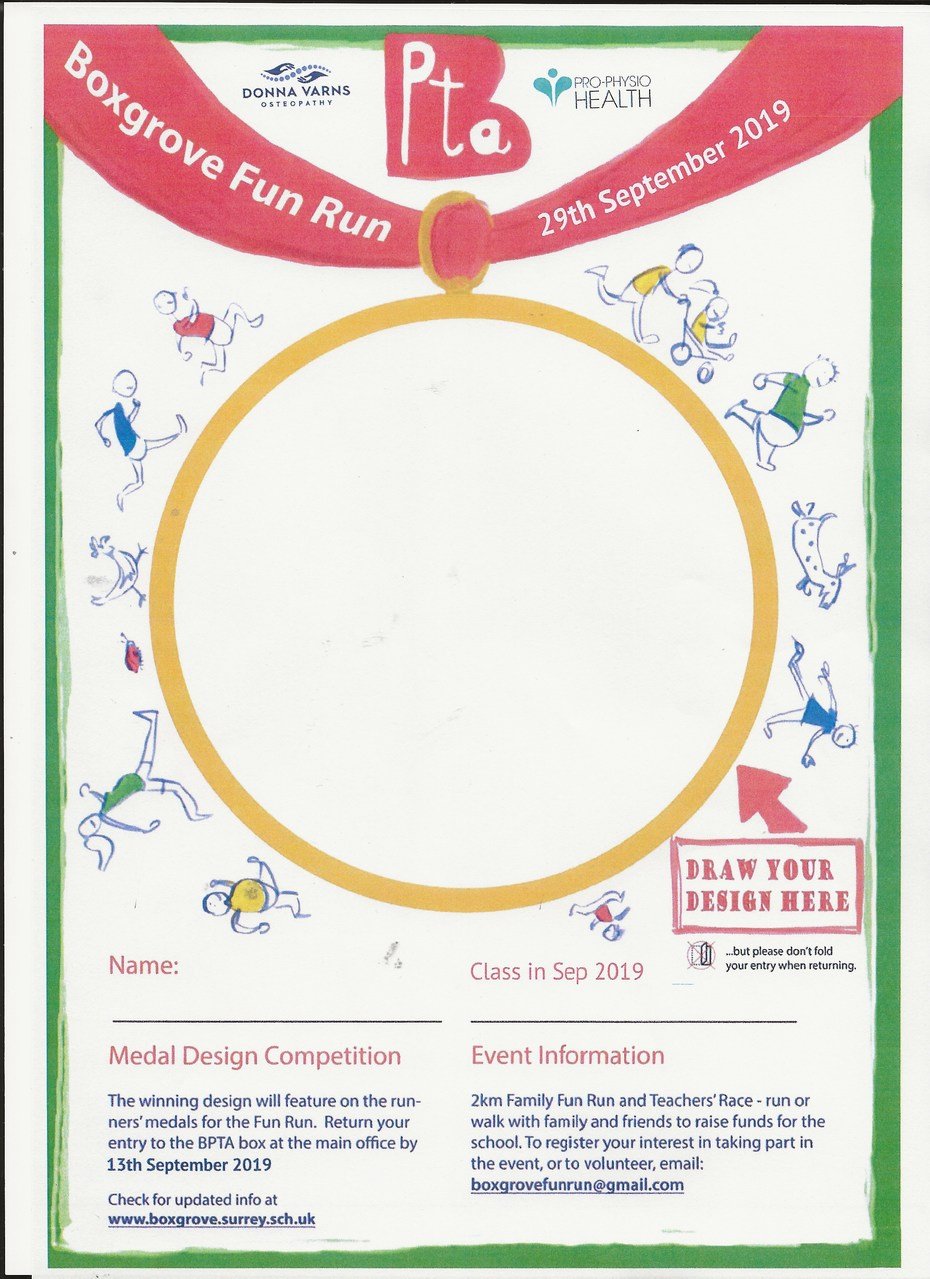 Schedule of Events On The Day.
9:30am - Registration
10:15am - Warm up
10:30am - 2km Fun Run
Followed by the Teacher Chase!
There'll be ice cream, refreshments, soft play, bouncy castles, face painting, hairspray, and a prize for the best fancy dress for anyone who cares to dress up! Click the image below to download the schedule for the day!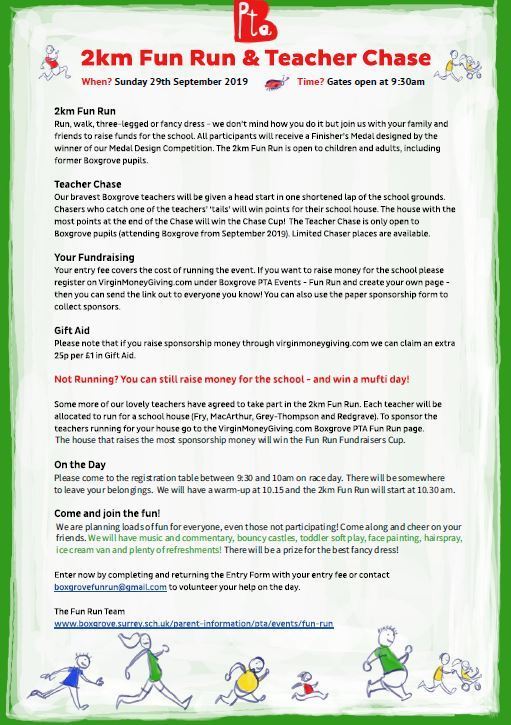 The 2km Fun Run.
Run, walk, three-legged or fancy dress - we don't mind how you do it but join us with your family and friends to raise funds for the school. All participants will receive a Finisher's Medal designed by the winner of our Medal Design Competition. The 2km Fun Run is open to children and adults, including former Boxgrove pupils!
Teacher Chase
Our bravest Boxgrove teachers will be given a head start in one shortened lap of the school grounds. Chasers who catch one of the teachers"tails' will win points for their school house. The house with the most points at the end of the Chase will win the Chase Cup!
The Teacher Chase is only open to Boxgrove pupils (attending Boxgrove from September 2019). Limited Chaser places are available.
Your Fundraising
Your entry fee covers the cost of running the event. If you want to raise money for the school then please register on VirginMoneyGiving.com under Boxgrove PTA Events - Fun Run and create your own page - then you can send the link out to everyone you know! You can also use the paper sponsorship form to collect sponsors.
To download a Sponsorship Form please click the image below:-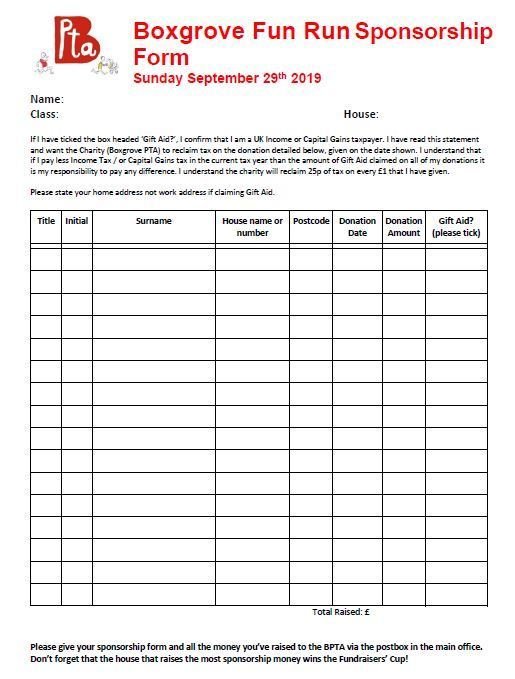 Gift Aid
Please note that if you raise sponsorship money we can claim an extra 25p per £1 in Gift Aid, but not on sponsorship money raised on a paper form.
Not Running? You can still raise money for the school - and win a mufti day!
Some more of our lovely teachers have agreed to take part in the 2km Fun Run. Each teacher will be allocated to run for a school house (Fry, MacArthur, Grey-Thompson and Redgrave). To sponsor the teachers running for your house go to the VirginMoneyGiving.com Boxgrove PTA Events Fun Run page. The house that raises the most sponsorship money will win the Fun Run Fundraisers' Cup!
Our 2019 Corporate Sponsors.
We'd like to extend a huge thank you to our corporate sponsors Donna Varns Osteopathy and Pro-Physio Health, more details about them can be found below:-
Donna Varns Osteopathy - www.donnavarnsosteopathy.co.uk
Donna Varns enjoys working in all aspects of osteopathy and specialises in cranial osteopathy for babies and complex paediatric and adult problems.
Pro-Physio Health - www.prophysiohealth.co.uk
Pro-Physio Health was established to provide an holistic approach to health and well-being with physiotherapy at the heart of its service.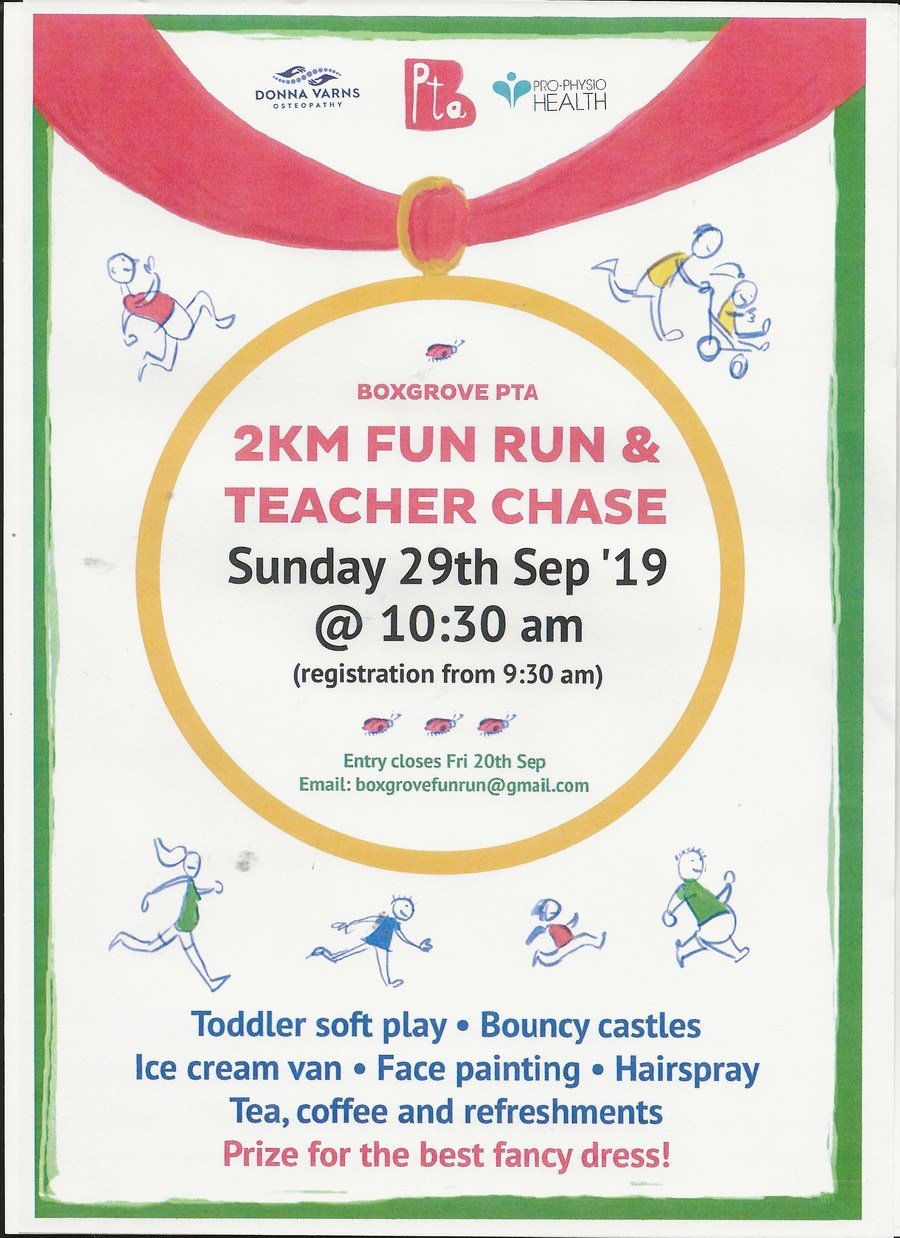 The 2018 Fun Run raised a fantastic £2,634p!!
What was the money spent on?
We have provided funding for new IT and interactive whiteboards, bought the PTA a new storage shed and purchased the top 100 books for Reception and Years 1 and 2.
Other money donated by the PTA will be funding:
Focus weeks
Christmas crackers for the children's Christmas dinner
Funding for the year 6 leavers yearbooks
Allotment funding for Mr Stevenson
Your School Needs You!
If you are feeling inspired to volunteer and help at our school events please get in touch by completing the form below.
Without our organisers, class reps, volunteers and helpers the school would not benefit from the funds raised via these events.
So, why not come along to the next PTA meeting to find out more?
Don't forget to "like" our Facebook page for regular Boxgrove PTA updates.