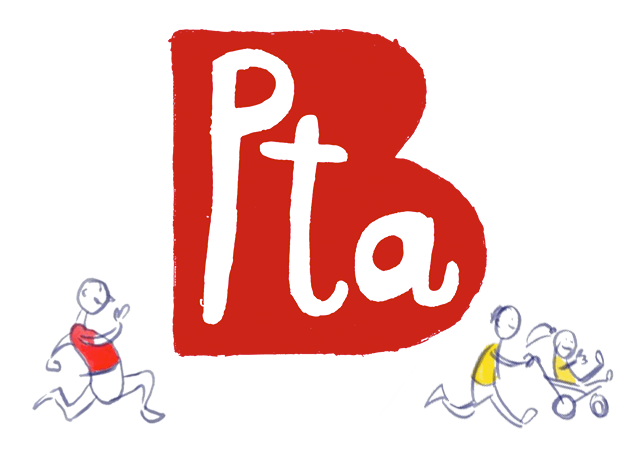 Family Fun Run - Sunday 11th October 2020
It's back for a third year!
In previous years people ran, walked, and jogged... some even came in fancy dress!
This year will be a little different as we are unable to host the Event.
However, you can still participate!
All you have to do is just run, walk or jog 2km on Sunday 11th October and tell us about it via Facebook by clicking here:-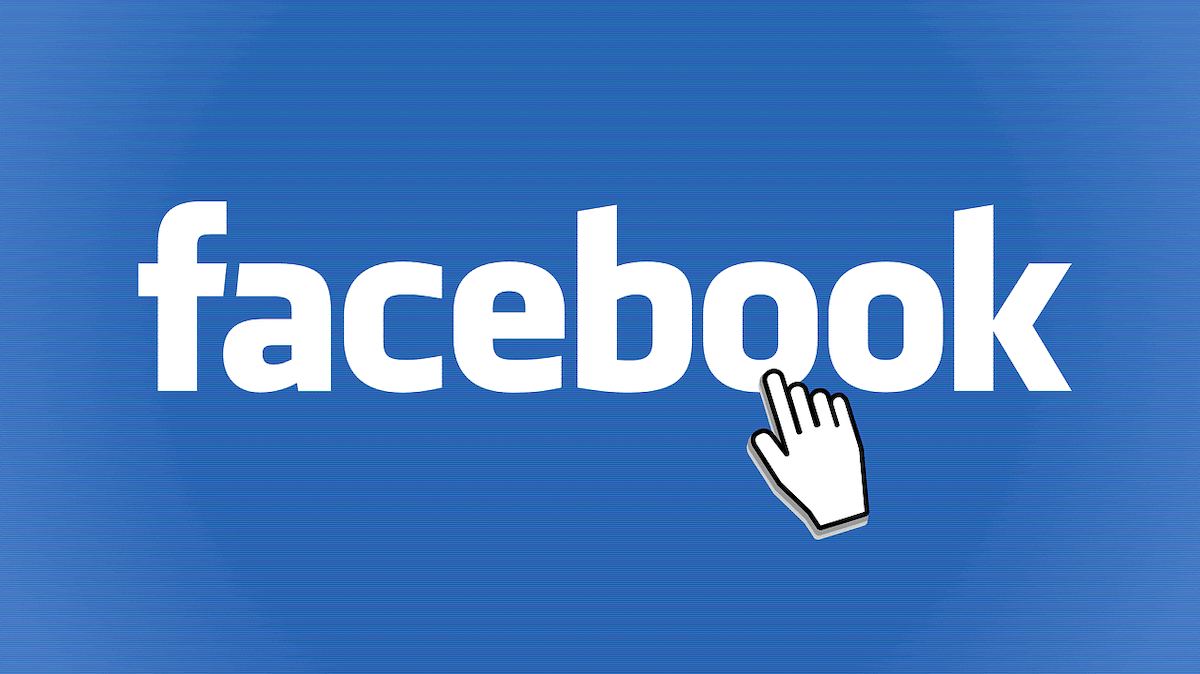 All participants will be able to download a certificate on the day of the event from this web page.
Boxgrove Staff Team

Chase.

The Boxgrove Staff Team are raring to go in this year's virtual Fun Run! They have got a whole spectrum of people running, from power walkers to marathon runners, including two who have just completed their first "Couch to 5K"!

If you'd like to make a donation to the BPTA to spur them on, please click the Staff Fundraising button below. All money will go to providing equipment and activities for all the children of Boxgrove.
Staff Times.
Sadly the staff won't be able to have you all "chasing their tails" this year. Instead, some of them have been running before Sunday, and their times are displayed below... See which of your teachers you can beat. Good luck!
Mr Balchin 9m29s
Mr Ney - 11m30s
Mrs Stacey - 13m57s
Mrs Robinson - 9m20s
Miss Quinlan - 11m53s
Mr Woodcock - 12m55s
Big thanks to our wonderful staff for getting involved again!

Fundraising for the Fun Run Event.
You can raise money for the school by either setting up a fundraiser and asking friends and family to sponsor you, or you can make a one off donation.


Gift Aid
Please note that if you raise online sponsorship money we can claim an extra 25p per £1 in Gift Aid, but not on sponsorship money raised on a paper form.
Fun Run Bib
To download the bib please click the image below, print it off and attach it to your runner (carefully!)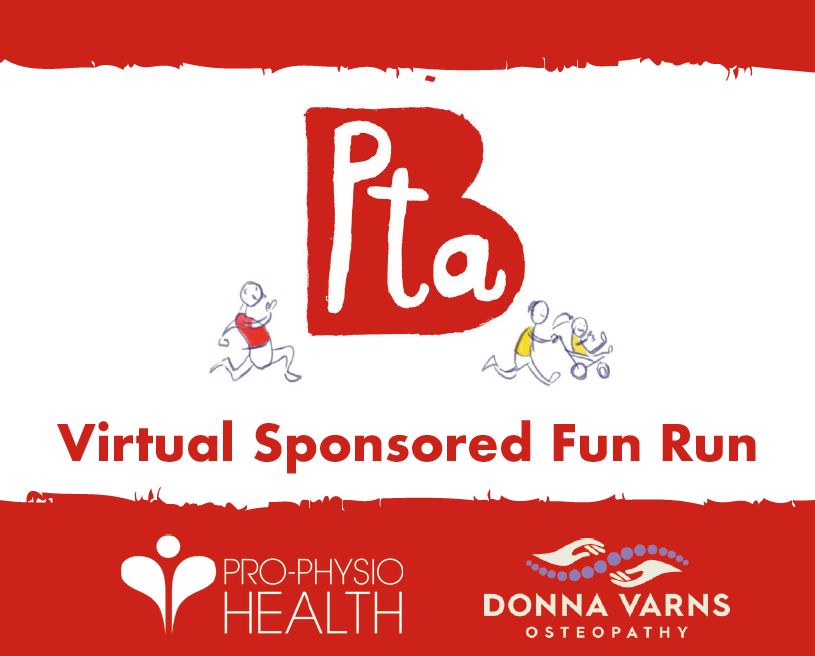 If you have any questions or queries please email boxgrovefunrun@gmail.com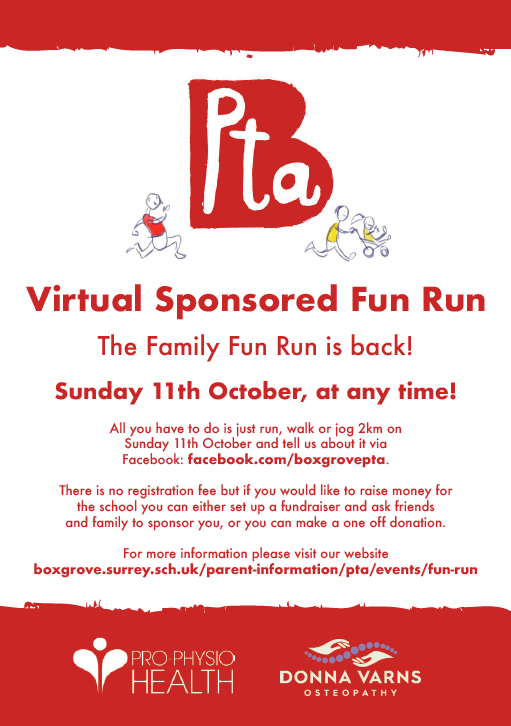 Our 2020 Corporate Sponsors.
We'd like to extend a huge thank you to our corporate sponsors Donna Varns Osteopathy and Pro-Physio Health, more details about them can be found below:-
Donna Varns Osteopathy - www.donnavarnsosteopathy.co.uk
Donna Varns enjoys working in all aspects of osteopathy and specialises in cranial osteopathy for babies and complex paediatric and adult problems.
Pro-Physio Health - www.prophysiohealth.co.uk
Pro-Physio Health was established to provide an holistic approach to health and well-being with physiotherapy at the heart of its service.
The 2019 Fun Run raised a fantastic £1,350p!!
What was the money spent on?
The PTA has funded the allotment, orienteering equipment, some sports equipment, IT and of course books of all kinds.
Other money raised by the PTA has funded:
Leavers' yearbooks for Y6 children.
A donation to each year group for equipment and resources.
A large contribution to the Hardship Fund.
Please Lend A Hand & Support The School

Lending a hand, no matter how large or small, will help make positive changes that enhance the children's experience and education at Boxgrove. Not only can you put your skills and hobbies to good use, it's a really good way to network within the school community too!

If you would like to get involved with the Boxgrove PTA in any way, then please pop along to our next Boxgrove PTA meeting to find out more or email boxgrovepta@gmail.com.