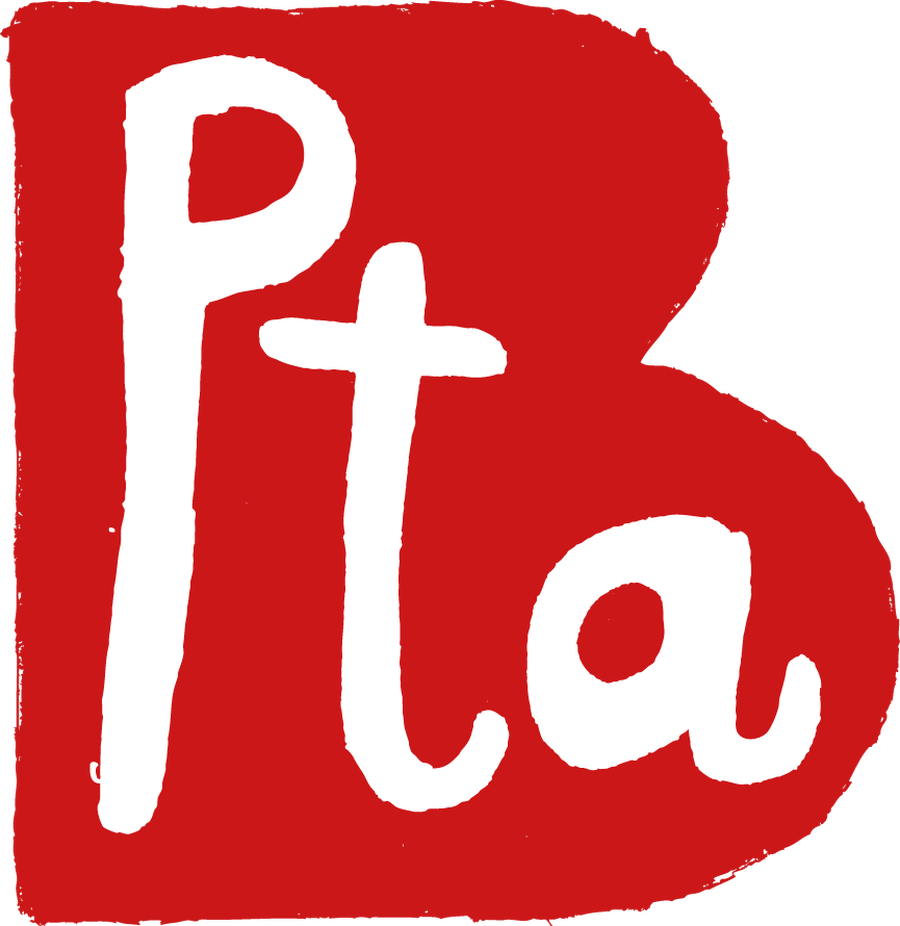 Christmas Fair - Saturday 30th November 2019
Time: 1pm to 4pm.
An amazing £8429.52p was raised!! Thank you to everyone!
Christmas Fair Raffle Update
Two prizes were won in the Christmas Fair raffle which have kindly been returned for someone else to use.
If anyone is interested, please email the winners directly. First come, first served.
As Father Christmas climbed into his sleigh and headed back to the North Pole, the snowflakes gradually settled in the Snow Globe. Our Boxgrove Elves breathed a sigh of relief... After all the months of planning, arranging and organising the Fair it seamlessly came together on the day! This was due to the dedication of our Christmas Fair Committee, teachers, staff, volunteers and sponsors. Thank you!!
~
"We would like to extend our grateful thanks to everyone who came along on the day, the staff, the teachers, and the parents who volunteered their time to help with the setting up and clearing down of 15 classrooms along with the 2 halls. We would also like to give a huge thank you to our wonderful class reps, those of you who volunteered your time to attend a stall and to all of our wonderful sponsors for their contributions and donations... thank you!
And finally, we would like to thank Mary Ann Weeks Aveda Lifestyle Salon & RSM Restructuring Advisory LLP for participating in the Match Funding Scheme. Between them they matched £450 of charity fundraising undertaken by their employees!
Without all these people, without the support of our community, the Christmas Fair just wouldn't be the same.
Thank you, thank you, thank you!
The Christmas Fair Committee
Kristi, Marianne, Gemma & Michaela
P.S. Volunteers - Don't forget to claim 1 House Token per 30 minutes volunteering - tubes and tokens are by the school office!"
One or two people have got in touch with us and shared their Christmas Fair experience with us via our Facebook Page.... and here's what they had to say:-
"This was our first Christmas fair at Boxgrove and what an amazing day my family had. I couldn't believe how much there was to do. I've never been to anything like it before. It was set up brilliantly, it was lovely watching how happy all the children were and thank you to all the people that worked so hard to set it up and to all that volunteered, you all did a fabulous job. I hope you didn't have to stay to late clearing up. Thank you for such a lovely day"
~
"Loved the snow dome made it so christmassy xxx well done you guys you did yourselves proud and the school should be so proud to have you as parents xxxx"
~
"Fab Christmas fair! Well done guys and thank you for making a difference!"
~
"It was a lovely event. Kids loved it. Thanks for all your hard work"
~
"Great event. Thank you!"
~
"It was a fantastic afternoon which was very well organised! Thoroughly enjoyable!"
~
"Brilliantly organised! Hope you raised lots of money"
~
"Thank you. It was a lovely afternoon"
An amazing £8429.52p was raised!! Thank you to everyone!
Sponsorship Boards for the Christmas Fair 2019.
This year Sponsorship Boards were provided by local Estate Agents Seymours in Burpham!
Richard Stovold opened the branch in 2004 and he, along with his experienced team, have been successfully selling all types of property in the local community ever since.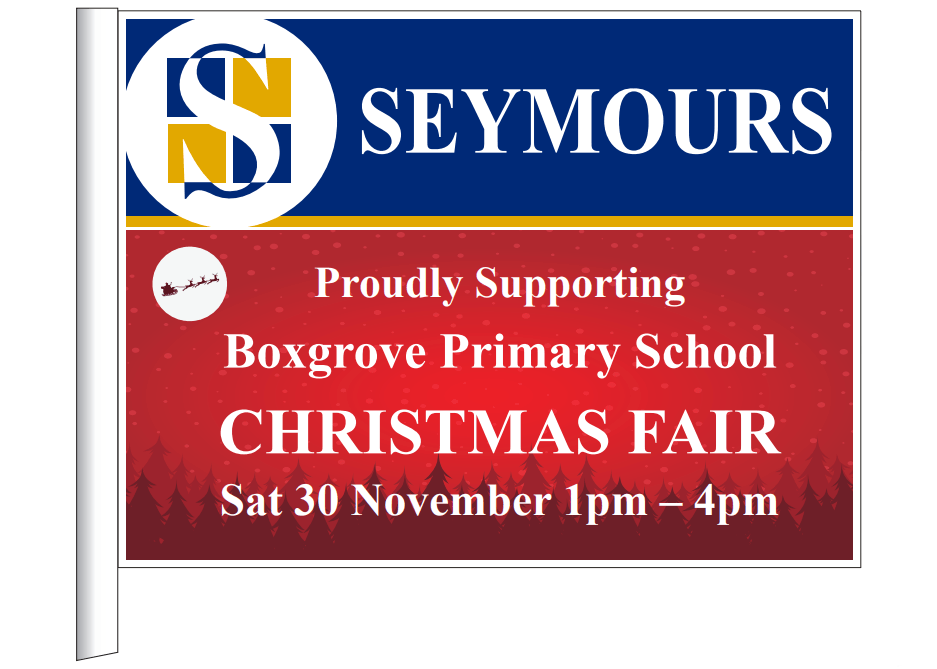 We have received a fantastic response from volunteers who are allowing a Sponsorship Board to be displayed at their property, which helped us advertise the Boxgrove Summer Fair.
Thank you to all who gave permission for a board to be placed outside their home and a special thank you to Seymours for their very generous sponsorship!
The Giant Snow Globe
We brought the magic of Christmas to our Christmas Fair this year with a Giant Snow Globe! Children stepped inside and enjoyed a touch of winter along with a great photo opportunity with their friends and family. It really did make the ideal Christmas selfie this year!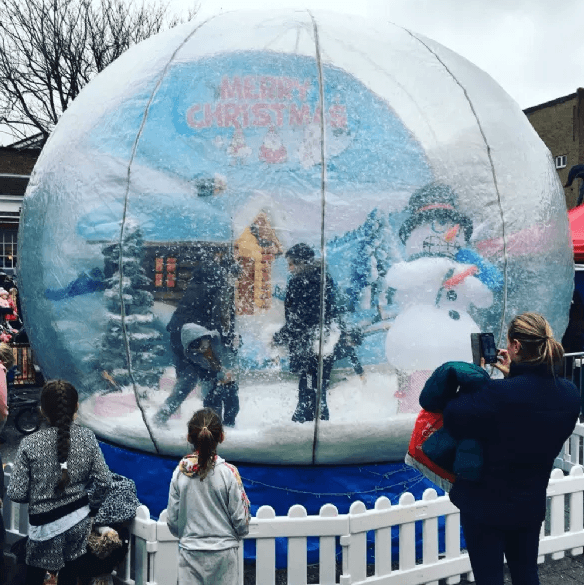 The Giant Snow Globe was sponsored by Realise Live, a small but mighty, award-winning production company who believe in creating exceptional brand experiences for their clients.
Some of Our Other Wonderful Sponsors This Year Were:-
White Barnes

Supplying a wide range of the highest quality flooring products throughout the Surrey and South London region.

Decathlon in Guildford

Making sport accessible to as many people as they can. Theye would like to help, inspire and guide you through your sports experiences.

Guildford Spectrum

Let Spectrum Ice transport you to Neverland this Christmas, as the popular pantomime Peter Pan returns to the ice.

The Friary Concierge

The friendly and helpful Concierge team is here to make your shopping experience at The Friary Guildford a real pleasure.

The Big Apple Entertainment

For excitement, look no further than The Big Apple - UK's premier group of Family Entertainment Centres.
An amazing £8429.52p was raised!! Thank you to everyone!
The 2019 Christmas Fair Programme...
Click on the image below to download the Christmas Fair Programme.
The 2018 Christmas Fair, Christmas Cards & Raffle raised a fantastic £8,358p!!
What was the money spent on?
The PTA has funded the allotment, orienteering equipment, some sports equipment, IT and of course books of all kinds.
Other money donated by the PTA will be funding:
Leavers' yearbooks for Y6 children.
A donation to each year group for equipment and resources.
A large contribution to the Hardship Fund.
Match Funding Scheme.
An increasing number of companies operate a Match Funding Scheme whereby they "match" charity fundraising undertaken by their employees (usually on a £ for £ basis up to a maximum amount).The amount offered will vary on the organisation and the conditions that may apply.
Many organisations offer a scheme but do not generally advertise this to their staff very well, so you may need to check with your Human Resources department. For more information please click here.
Please Lend A Hand & Support The School
Lending a hand, no matter how large or small, will help make positive changes that enhance the children's experience and education at Boxgrove. Not only can you put your skills and hobbies to good use, it's a really good way to network within the school community too!

If you would like to get involved with the Boxgrove PTA in any way, then please pop along to our next Boxgrove PTA meeting to find out more or email boxgrovepta@gmail.com.
Don't forget to "like" our Facebook page for regular Boxgrove PTA updates.