GROVERS BREAKFAST AND AFTER SCHOOL CLUB
Grovers offers before and after school play in a safe and caring environment to children from Boxgrove Primary School. The children are able to relax and enjoy themselves with a variety of activities to choose from. In the afterschool club there is a maximum of 56 children daily in Junior Grovers and 24 in Infant Grovers. Breakfast club can take a maximum of 64 children spread across both Key Stages. Both groups are supported by friendly enthusiastic staff, all experienced in playwork and childcare (qualified and unqualified). All activities are organised to promote positive behaviour without discrimination on the grounds of Race, Gender or Ability. Grovers is held daily from 7:55am – 8:45am and 3:15pm – 5:45pm.
For further information, please contact Mary Chambers Manager on (01483) 540814 during school hours, and leave a message or 07708652232 during club hours, email grovers@boxgrove.surrey.sch.uk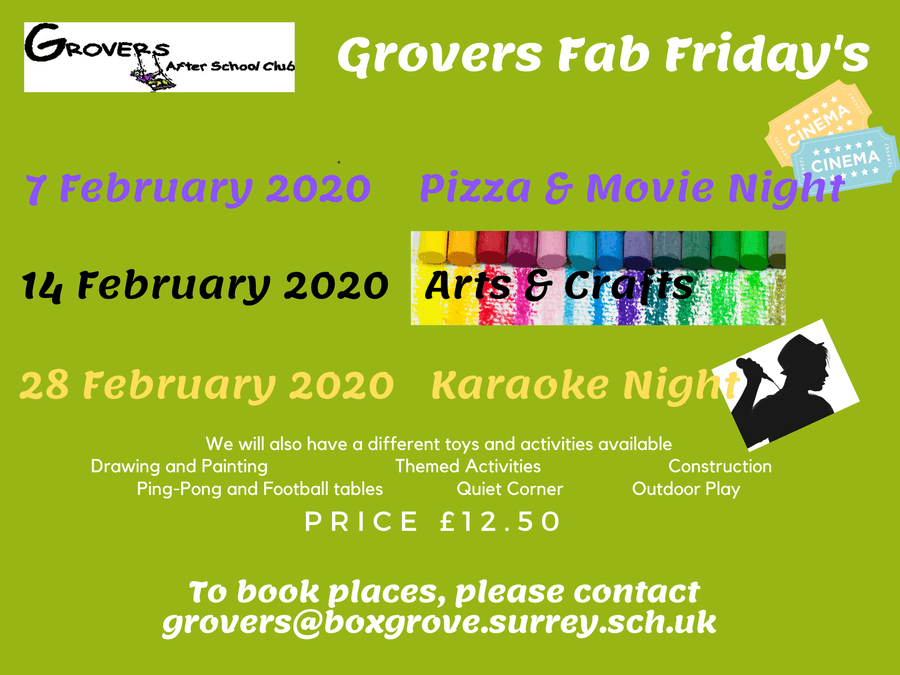 FEEDBACK FROM THE CHILDREN
Don't just take our word for it that Grovers is a great place to be, below are some of the children's comments from a recent survey. This is what they had to say:
..."I love human snooker with Harry. It's great fun and even better because we made the game up as a team."
"Kaye taught me how to sew. We used real needles and didn't prick our fingers once."
"Playing cricket and hockey outside with Tom is fab. I've never played hockey before and I really like it..."
..."The art table with Emma is amazing. Where does she get her ideas? I love sharing my creations with my family at home and my grandma has lots of the things I make in her house too."
Of course, "toast time" was given top marks by everyone including the staff too!
YOUR QUESTIONS ANSWERED
How much will it cost?
The fees are: £5 per morning session and £12.50 per session (3:15pm – 5:45pm). Children collected after 5:45pm will be charged a late collection fee.

Fees are payable in advance at the beginning of each month.

How do I book my child into Grovers?
For children new to Grovers a registration form should be completed. This, along with booking forms and Terms and Conditions are available from the School Office and the Grovers Playleader. Bookings are done on an annual basis. Simply tick the days you require and hand the form to the Grovers Playleader at the School Office. You will then be advised if your requested days are available.
Can my child attend Grovers for just one session which is not a regular booking?
We understand that from time to time parents may find themselves in the position where they need to find childcare for their child(ren) just for one evening. providing the club is not full Grovers are able to offer places on a "one off" basis. Please speak with Mary Chambers to check on availability.
ACTIVITIES
Reception & Key Stage 1
Art Competitions
Cooking
Easter Bonnets
Mothers Day Activities
Spring
Key Stage 2
Art Competitions
Cooking
Easter Nests
Mothers Day Activities
Spring