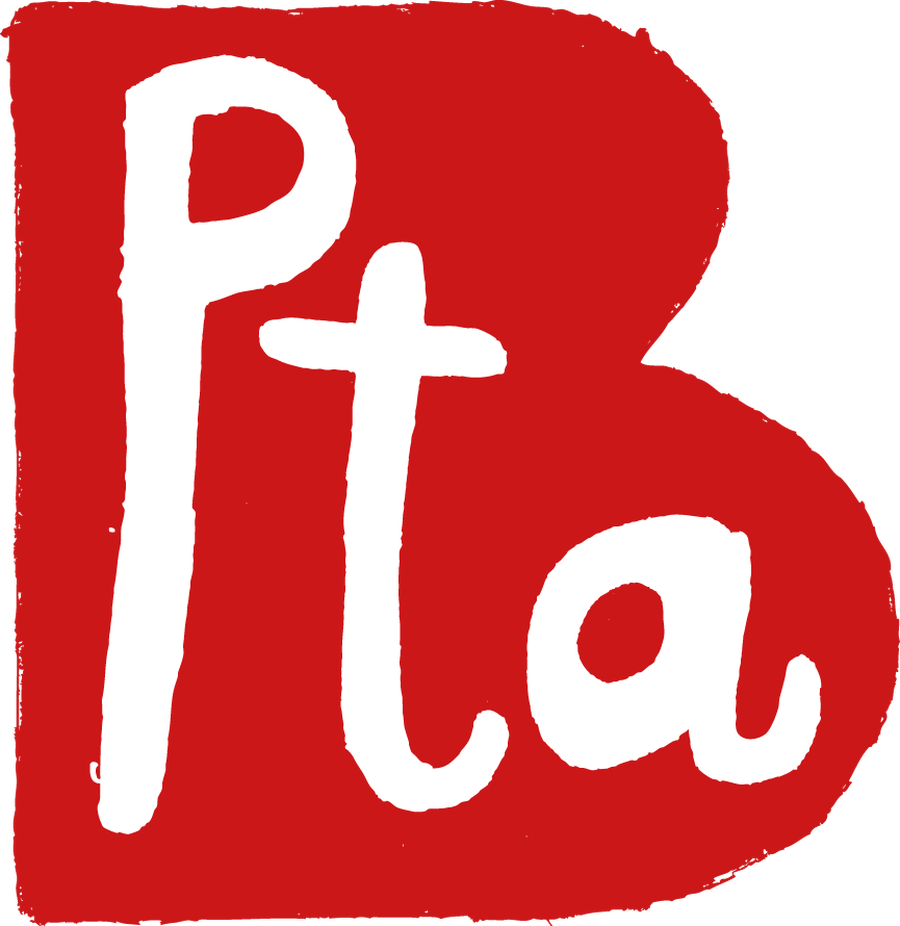 Summer Fair - Saturday 15th June 2019
Time: An action packed afternoon from 12pm to 3pm
Hello! We are delighted to welcome you to the Summer Fair!
We are thrilled to be able to tell you that due to their huge popularity last year we are once again offering donkey rides! Find them behind the Year 3 and 4 classrooms. We have a fantastic range of performers to entertain us today; see the programme of events below and make sure you don't miss anything. Performances will be outside the Kent Hall.
As ever, we have a fantastic range of stalls and activities with something for everyone. You will find the ever-popular crazy sand and hair-spray stands in the Year 5 and 6 classrooms, along with the nail bar. If you want a tattoo this year, make your way to the bouncy castles. No really. On the playground and the field you will find all your favourites from Welly Wanging to Beat the Goalie, and don't forget the classic Toilet Roll Toss.
The bar is on the grass by the Kent Hall, next to the BBQ. Please remember the whole bar area is for over 18s only, soft drinks are available in the Kent Hall along with teas, coffees and cakes. There is also an ice-cream van ready to supply you with your favourite cones and lollies. Don't forget to visit the Silent Auction and Pop a Prize stalls, this year we have some truly incredible prizes up for grabs.
If you should require first aid, please find a member of the team (wearing a red sash) who will be able to help you.
We would like to say a big thank you to the Boxgrove staff, parents and children for the help and support they have given us in organising today's fair. We would especially like to thank our fabulous MCs for making sure we all know what's going on when.
Huge thanks also goes to all the local companies who have been so generous, especially our main sponsors Burns and Webber Estate Agents. Please find the list of sponsors on the programme below.
Have your raffle tickets to hand for the draw at the end of the fair. Don't worry, there are still some on sale if you haven't got yours yet. This is the Boxgrove PTA's main fund-raising event of the year and all the money goes to improving and enhancing the children's experience of school. Without you it would not be possible, so thank you.
Have a great a afternoon!
The BPTA Summer Fair Committee
Zoë, Lisa, Rachel, Tracey, Sabine, Katie & Sam
ENTERTAINMENT LINE UP FOR 2019
12pm - Summer Fair opens!
12.10 - Reception Music club (will perform in a Year 6 classroom)
12.30pm - Phoenix Youth Productions
1.30pm - Little Big Dance
TO DOWNLOAD YOUR PROGRAMME PLEASE CLICK BELOW
ATTENTION CRICKET LOVERS OUT THERE!
A silent auction is happening with tickets to the Ashes, raising money for the PTA. Bids to be submitted to zozporter@yahoo.co.uk by the 15th June 2019.
Note this is in the summer holidays, 1 adult and 1 child - face value is £85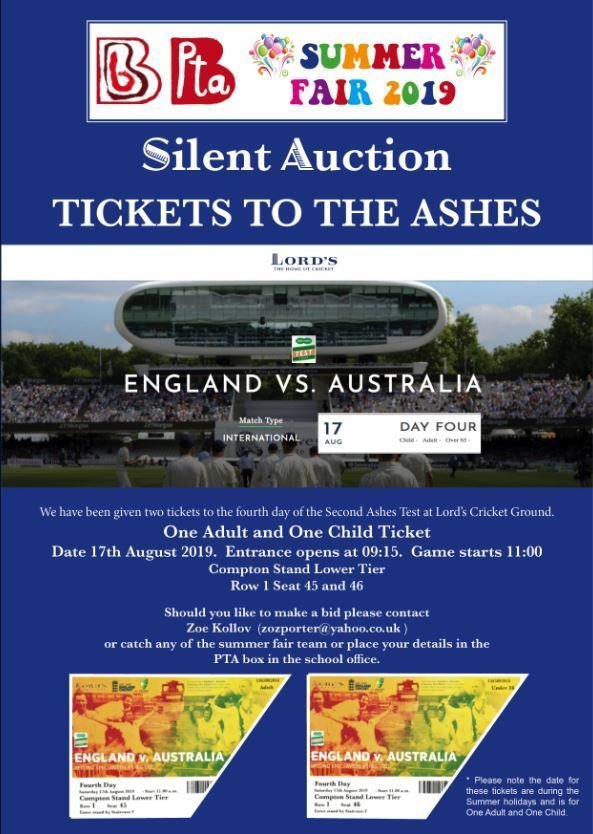 SPONSORSHIP BOARDS FOR THE SUMMER FAIR 2019.
This year Sponsorship Boards have been provided by local Estate Agents Burns & Webber!
We have received a fantastic response from volunteers who are allowing a Sponsorship Board to be displayed at their property, which will help advertise the Boxgrove Summer Fair for us.
Thank you to all who have given permission for a board to be placed outside their home and a special thank you to Burns & Webber for their very generous sponsorship!
MUFTI DAYS – WEAR YOUR OWN CLOTHES TO SCHOOL
Friday 14 June - in exchange for a bottle for the tombola. You could win the prize you donate, so be generous!

RAFFLE TICKETS
Books of raffle tickets will be sent home soon. Please sell (or buy) as many as you can and return your stubs and money as soon as possible a long with any unused tickets which can then be sold on the day. Extra tickets are available.
DONATIONS
After half term there will be tables outside the school office each day for any of the below donations. You can also leave contributions outside the new PTA shed by the little car park.• Good - quality toys and cuddly toys (washed, please!)• New toiletries, unused stationery, craft items, or anything that can fill baskets (we'll take baskets, too) to be sold as new or good - as - new• Books of all types – except out - of - date manuals, encyclopaedias etc• CDs, DVDs, electronic games (no videos or cassettes, thanks)

VOLUNTEERS NEEDED
Class reps will soon be asking for help to fill the rota for your class' s allocated stall. Please do sign up, it makes a huge difference if everybody lends a hand for half an hour or an hour.It can be a tough job being a class rep so please get in touch with yours to offer your help. We can't run the fair without you, please don't assume somebody else will do it. The barbecue, for example, needs 25 people to run smoothly over the four hours so please don't ignore messages asking you to get involved. If everybody does their bit the fair can be a huge success, and everyone gets to enjoy the day.
MATCH FUNDING
Do you work for a company that offers a match funding scheme?
Many companies offer to match an employee's charitable fundraising pound for pound (up to a maximum amount). Generally, the employee must have been involved in the fundraising event, for example volunteering on a stall at the Summer Fair. This means that if you help out on, say, the Splat the Rat stall and the stall makes £500 (a lot of rats) then your employer could be willing to match that with a further £500.

How can I get involved in this marvellous plan?
Great question. CLICK HERE to find a list of companies we believe run match funding schemes but it's by no means comprehensive. It is not just the corporate giants that are involved; you may work for a smaller outfit that is keen on charitable giving. All you need to do is speak to HR.
If your company does offer a match funding scheme then please speak to a member of the Summer Fair committee and, of course, let your class rep know that you are keen to help out on the stall allocated to your child's class.
Annually, the BPTA raises around £30 ,000 to be invested in equipment and activities that improve and enrich your child's school experience. Previously, £3,000 of that came from one parent whose employer fund matched a stall at the Summer Fair and one at the Christmas Fair. Just think how much more we could raise if you got your company involved.
We look forward to seeing you at the fair!
Zoë , Lisa , Katie, Tracey, Rachel, Sabine & Sam
The 2018 Summer Fair raised a fantastic £10,533.64p!!
What was the money spent on?
The PTA has funded the upgrading and improvement works to the KS1 playground. The first phase has been completed with smart new astro turf, giving the look of fresh grass all year round. The second phase should be carried out later on in the year and this will comprise of new play equipment for the children.
The PTA has also funded Maths trays for each year group to ensure there are enough resources for everyone. This will ensure the maths mastery approach is being taught effectively with the use of enough resources for all children. Resources are a crucial necessity when teaching maths to ensure all children are able to access and understand their learning.
Other money donated by the PTA will be funding:
The top 100 books for years 3, 4, 5, and 6 with other years planned.
Focus weeks.
Christmas crackers for the children's Christmas dinner.
A donation to each class for equipment and resources.
Allotment funding for Mr Stevenson.
Your School Needs You!
If you are feeling inspired to volunteer and help at our school events please get in touch by completing the form below.
Without our organisers, class reps, volunteers and helpers the school would not benefit from the funds raised via these events.
So, why not come along to the next PTA meeting to find out more?
Don't forget to "like" our Facebook page for regular Boxgrove PTA updates.